Feral swine population growth is a problem that many states face. Here is an article about the issue from North Dakota:
link for source
An animal estimated to cause $800 million damage in the U.S. annually first appeared in North Dakota in 2007 and state animal officials are strongly urging the public to report all sightings. After feral swine moved into the state, the Legislature passed a bill last session, in 2009, to regulate the animal.
"We've had a few situations that have come up recently in which individuals saw wild pigs on their property, or on property they were hunting, yet did not report it to the BOAH (Board of Animal Health)," said Greg Link, assistant chief of wildlife for the North Dakota Game and Fish Department. "There will be serious consequences if feral pigs establish a permanent population in the state."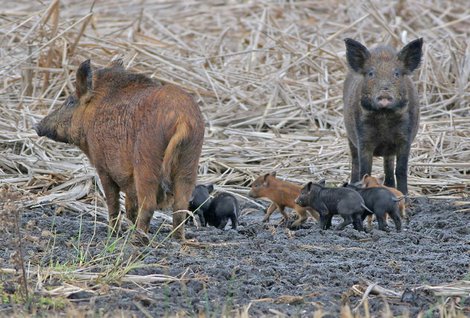 Ryan Powers, wildlife disease biologist for the United States Department of Agriculture's Wildlife Services, said there have been reports of feral swine across the state, including Billings, Rolette, Sheridan and Nelson counties as well as in the Turtle Mountains.
During hunting season last fall, sightings of feral swine in the Badlands were reported, NDGF Wildlife Veterinarian Dr. Dan Grove said, adding they were later thought to have been escaped domestic pigs.
But, their presence leaves something for concern.
"Anytime that you introduce anything that's that large and sizeable and destructive into an area that it's not native to you going to have some major problems," Grove said.
Officials say the animals can cause complete destruction.
"They'll pretty much eat anything they come across," Grove said. "They destroy native habitat. They'll kill native species. They tear up the native prairie as well as being a potential source of disease for our domestic livestock as well as our wildlife in the state."
Aside from the damage, disease-related issues are a major concern.
"Feral swine are capable of carrying 30-some different viral and bacterial diseases in addition to parasites and some of those diseases can be passed on to domestic livestock, wildlife, humans, pets … ," Powers said.
Officials are unclear as to how the animals landed in the state.
"Usually they are escapees," Grove said. "Sometimes they are released for the purpose of hunting which has actually been banned in the state."
The newly-passed legislation regulates several aspects concerning feral swine.
It is illegal to possess live feral swine and to hunt or trap the animal.
Powers said while the wild swine existed in southern states for many years, their numbers have gradually increased along with their distribution shifting to the north.
"We don't want feral swine to become established in North Dakota because of the potential impacts they could cause," Powers said.
More than 4 million feral swine are estimated to be across the U.S., existing in at least 40 states, Powers said.
"They are probably the most prolific large mammal we have in the U.S.," Powers said.
--------
And here is an article addressing the issue in South Carolina. These pigs are everywhere!
Article Link